Every Choice Matters: Confronting and Embracing Risk with Rabbi Aviva Richman
Monday, November 2, 2020
•
15 Cheshvan 5781
8:00 PM - 9:00 PM
Past Sessions
Monday, October 26, 2020

•

8 Cheshvan 5781

-

8:00 PM - 9:00 PM
Monday, October 19, 2020

•

1 Cheshvan 5781

-

8:00 PM - 9:00 PM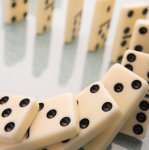 Life under a global pandemic has brought into focus the fundamental role that risk plays in our lives. Every decision, from where we grocery shop to how often we see our families, carries weight - the weight of knowing that our actions carry some degree of risk to ourselves, those around us, and beyond. What sources of wisdom can help orient us while we navigate choices that feel daunting and impossible?
This series, led by Rabbi Aviva Richman of Hadar, will ground us in two centers: 1) The anchor of our vast tradition of Torah and 2) the anchor of people who are "embodied experts" in risk as a consequence of their daily work and lives. Through a generative havruta, we will reach for insight on how to navigate personal, communal, and structural questions of risk. By learning with people who consciously experience the impact of risk as part of the regular rhythm of their days, we will aim to gain our bearings to more readily step into the mode of living with risk.
Share Print Save To My Calendar
Sat, October 31 2020
13 Cheshvan 5781
Today's Calendar
Shabbat Services

: 9:00a
Torah Study

: 9:30a
Mincha

: 12:30p
Ma'ariv & Havdalah

: 7:15p
Havdalah

: 7:35p
---
Upcoming Programs & Events
---
This week's Torah portion is

Parshat Lech Lecha
Candle Lighting
Havdalah
Motzei Shabbat, Oct 31, 7:35p
Shabbat Mevarchim
View Calendar
shearith israel sings
Enjoy our community's rendition of a central piece of the High Holiday liturgy, "K'vakarat ro'eh edro".
MI SHEBAIRACH LIST
To add yourself or a loved one to our list for prayers of healing, or to sign-up to call/visit members who are ill or in need, click below:
Join
machaneh shai & youth programs
As we practice social distancing in the midst of the COVID-19 pandemic, Machaneh Shai will continue with online classes and our USY group will gather for virtual meetings. Learn more:
ahavat chinam opportunities
Join our community in engaging in acts of Ahavat Chinam, baseless love.
CSi member exchange
Members are invited to join our closed Facebook group to foster an exchange of ideas, interpersonal relationships and member engagement!
Sat, October 31 2020 13 Cheshvan 5781